Seals' Memorabila
These page is devoted to Seals' pennants, logos, stickers, or other souvenirs. If you have any old pictures of Seals' memorabilia to share, email me at thawley at tdl.com.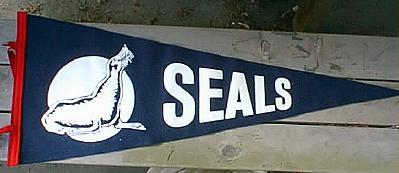 A Seals' pennant from the 1940s.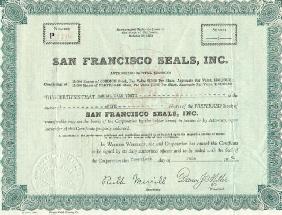 This is a copy of a 'certificate' in the "Little Seals" corporation. For two years in the mid-1950s, the Seals were run as a corporation by fans and Seals' employees.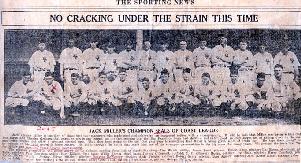 A thumbnail picture of the 1922 PCL champion Seals. Click on it to view the full-size picture.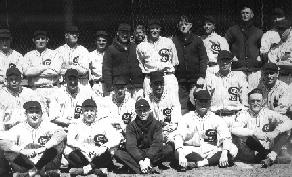 This is a thumbnail picture of the Seals (circa 1926 or 1927) sent to me by the son of former Seals' player Earl Averill.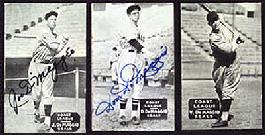 These are Zeenut cards of the DiMaggio brothers when they each played with the Seals. On the left is Joe, followed by Dom and Vince.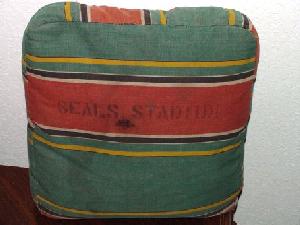 A seat cushion from Seals Stadium. The cushions were rented during games. This one is from the 1950s.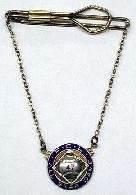 A pin from the 1947 PCL All-Star game. Below is a picture of the '47 All-Star team. In it, you can pick out Lefty O'Doul among the Seals players and Casey Stengel of the Oaks. These photos were originally taken by Hugh Luby of the Seals.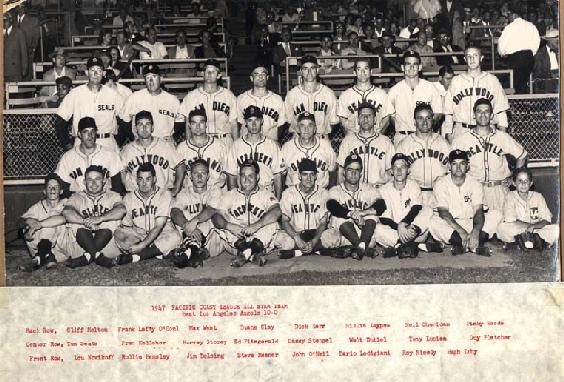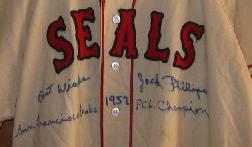 An autographed 1957 Seals' jersey of Jack "Lefty" Phillips. Phillips later managed the California Angels in the late 1960s - early 1970s.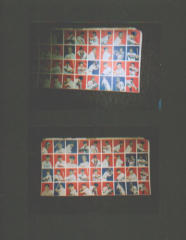 A sheet of 1949 Bowman SF Seals baseball cards.
Seals' bottle cap opener.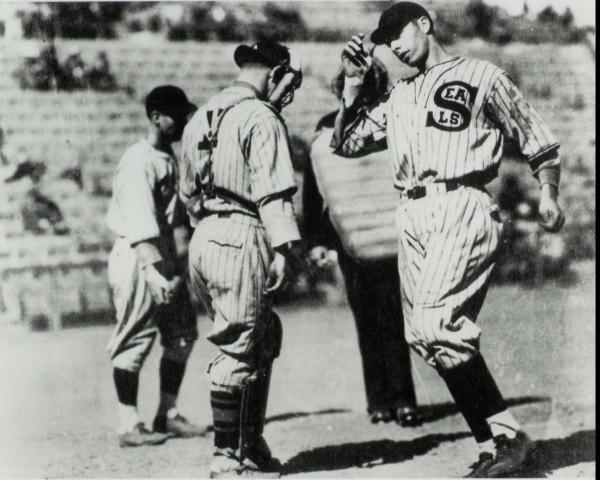 Picture of Joe Dimaggio as a Seal in 1933.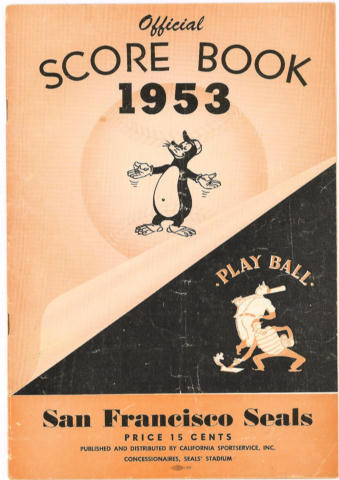 1953 Seals' scorebook.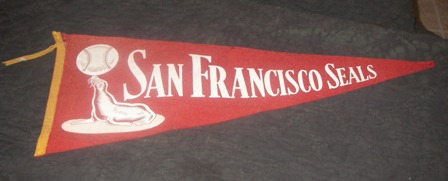 1950s Seals pennant.